My Old Cubby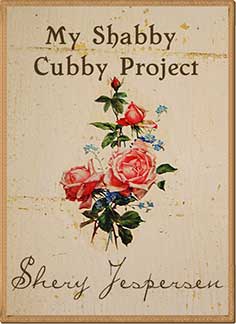 When I was a wee lassie, I thought it completely normal that each day would begin with a trip to the local dump. I spent much of my early childhood in my Grampa's shadow and nearly every day, weather permitting, we went to the dump on a scavenger hunt. He and Gramma grew up in the homestead era and then spent much of their adult life just trying to get by. Gramma waited 5 long years for her true love to come home from WWI. They began their life together scratching out a living as ranchers. Before they were wed, Grampa told her that he could afford either a new Hamley saddle or a wedding ring, but not both. My Gramma, then his young, auburn haired bride was ranch savvy and she chose the saddle! As young adults, they faced very tough times…the Great Depression, The Dirty 30s, and WWII. As a result, they became members of what is now referred to as 'The Greatest Generation'. They were people who enjoyed life even in the midst of doing without most, if not all, of life's luxuries.
By the time I was old enough to hang out with my Grandfather (1960s), he was well into retirement. He was very active though and loved building and fixing things. That is where the city dump came in...
We scavenged through the litter and brought our found treasure home. I spent many an afternoon pounding old, rusty nails straight on the cement floor of their garage. Mind you, at that time in their lives, my grandparents didn't need to be so frugal. But, old habits are hard to break. I loved their lifestyle and to this day my childhood memories spent with my grandparents are golden moments that I cherish.
Gramma always held her hand over the toaster slots while the bread was toasting. If she forgot, the toast would be flung to the far side of the dining room. Why, you ask? Well, the spring inside the toaster had failed, but back then you could repair small appliances and that's exactly what occurred. However, the spring that Grampa used to replace the old one was stout and now you know why Gramma had to keep vigil. More than once did I witness air born toast overhead, like it had been shot out of a cannon.
Grandpa made so many useful things from either nature or 'junk'. He made beautiful lamps from cedar and all the electrical parts were recycled. My little sister's child-sized Victorian era rocker was also a dump find. Grampa lovingly refinished and rebuilt it.
This brings me to my most recent reclamation 'junktique' - an old medicine chest saved from the dump. A good cleaning, some sanding, paint and vintage decals transformed it into a cute bathroom cubby. I think Grampa would be pleased. I'm so grateful that he taught me to look for things whose value could be restored. Whether it was a wounded bird or old junk, he taught me well the practical application of the word 'redemption'. "New" isn't nearly as satisfying as having played a role in giving something new life. Now I know why my grandparents never abandoned a 'make do' lifestyle. It isn't just needful in lean times, it is responsible living and just plain rewarding.